in-lite SWAY CONCEPT Outdoor Lighting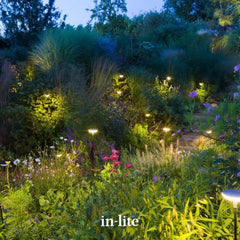 The SWAY series was developed based on the notion that a bollard can be naturally integrated into a yard and does not have to attract attention.

During the SWAY design process, the focus was on natural shapes and a fixture that provides a light output on all sides. As a result of the soft curves of these fixtures, they become one as it were with the natural beauty of the outdoor space.

The minimalist design creates an elegant and inviting look & feel that is also highly contemporary. SWAY lighting fixtures are available in the colors Black and Pearl Grey, making them perfect for combining with outdoor spotlights, ground lights and other anodized in-lite fixtures.
---