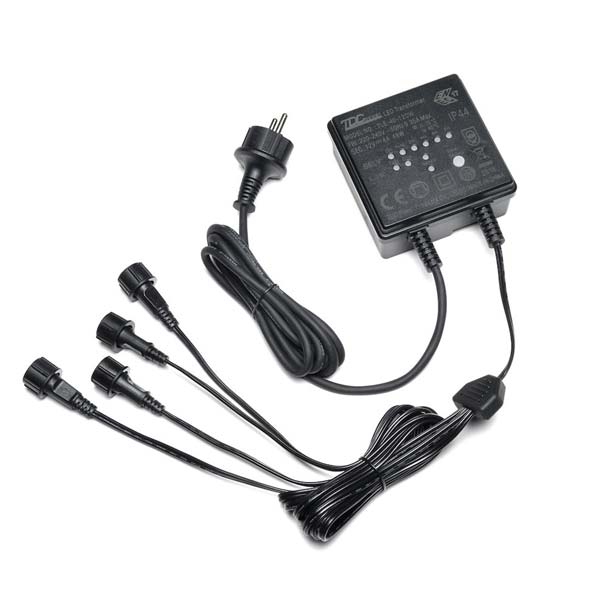 Konstsmide 12v TRANSFORMER 48w Low Voltage Outdoor Transformer
Konstsmide
7474-000
12v Transformer (transforms mains 230v to safe 12v) - 48w maximum power output.
Transformer comes pre-fitted with a UK 3-pin plug and includes 4 outputs of 1m extension cable. Fitted with a timer and dusk to dawn sensor
Just plug it in, switch on and the UK mains and 230v AC power is reduced to safe 12v AC power.
If the total power consumption of your garden lights is very near to, or exceeds, the power output rating then you should split your cabling runs and use more than one transformer.
The transformer can be fitted safely outdoors but if the 3-pin plug is to be sited outdoors then it should be fitted in a waterproof electrical socket housing similar to the one shown below:
The image shown above is from the Screwfix catalogue (BG Nexus 13A 2G RCD Switched Socket -Product Code: 91095)but equivalents are readily available from good electrical wholesalers.
An RCD is a residual-current device, or residual-current circuit breaker (RCCB), is a device to quickly disconnect current to prevent serious harm from an ongoing 230V electric shock.
---
Share this Product
12vgardenlights.com is the trusted supplier for patio lights, decking lights and outdoor garden lights.
We specialise in low energy LED garden lights, outdoor lighting design and garden lighting design. We only promote and sell safe low voltage garden lights and our 12v garden lights are all easy to install with simple plug and play technology. We are proud to have a great choice of outdoor LED garden lights.
Feel free to contact us regarding any questions you may have.
---
More from this collection