Outdoor Plug & Play Garden Lights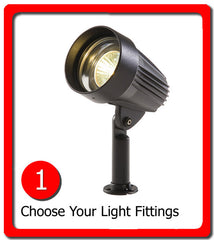 Plug & Play Garden Lights are safe and easy to install. You can do it yourself!
In 2015 we added a new division offering professional outdoor lighting advice, design, installation and maintenance services.
We strive to give all our customers a seamless shopping and lighting experience. Our commitment to provide high quality low voltage lighting services in the UK continues.
Service quality, customer satisfaction and our business reputation are key factors in our business growth.
Challenges around Brexit and market pricing has influenced our decision to stop selling Techmar products.
The Low Voltage Garden Lights Range offers a fabulous selection of high quality outdoor garden lights.
Simply choose your light fittings, measure up for cables and select the transformer size.
For more information see under the 'all you need to know' header or feel free to give us a call.
---
Sorry, there are no products in this collection