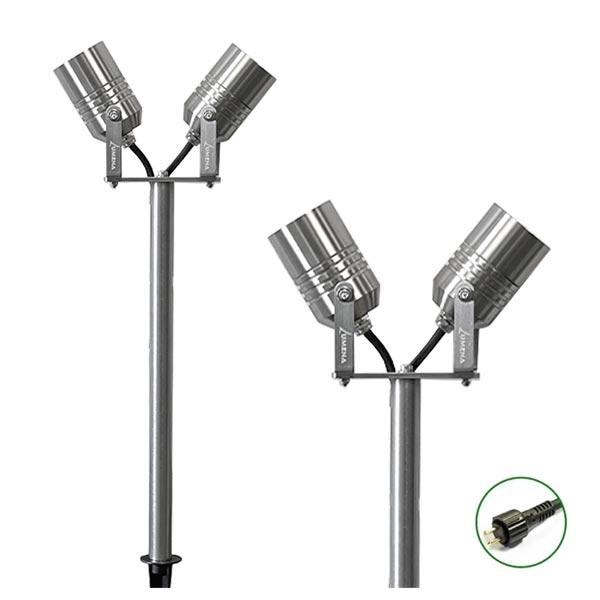 Lumena AlvaLED TWIN 12v VERSA Plug & Play Outdoor Spotlights
Lumena
ALVAMR16S-TWIN
The AlvaLED TWIN 12v light fixture features two stainless steel outdoor spotlights supplied with a 40cm pole, standard ground spike and surface mounts. Fully adjustable with a 180 degree rotation, AlvaLED TWIN spotlights are ideal for illuminating landscape elements, features and showcase lighting that can make a statement in traditional and contemporary outdoor settings.
Material: Aluminium, Anodised Aluminium, Glass, Marine Grade Stainless Steel (316)
Colour: Titanium Silver (anodised), Stainless Steel
IP rating: IP65
Dimension: Pole Length: 400mm x 25mm
Spike Length: 165mm
Twin Adaptor Length: 120mm
Head Length: 135mm (fully extended)
Head Diameter: 60mm
Cable Length: 1.5m-2m
Plug Type: VERSA – Plug & Play (2 pin) – male
Compatibility: For use with the Lumena VERSA 12v Garden Lighting System
Light source: Light Source Not Included, MR16 20w max
3 year guarantee, 1 year warranty for cable
See the Low Voltage Benefits
---
Share this Product
12vgardenlights.com is the trusted supplier for patio lights, decking lights and outdoor garden lights.
We specialise in low energy LED garden lights, outdoor lighting design and garden lighting design. We only promote and sell safe low voltage garden lights and our 12v garden lights are all easy to install with simple plug and play technology. We are proud to have a great choice of outdoor LED garden lights.
Feel free to contact us regarding any questions you may have.
---
More from this collection