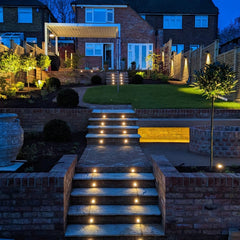 How to illuminate your space in style and amazing ambiance
James Parnham
Looking for Lighting Ideas and Inspiration in 2023?
Introduction
Looking for lighting ideas and inspiration to beautifully illuminate your garden and outdoor spaces with amazing ambiance?
In the new brochure, The Book of in-lite 2023 , you will discover how to truly bring new light outdoors with the complete lighting solution that really does "Make your outdoor space unique".
Reveal, highlight and emphasise the beauty of your home and garden
For illuminators who have a passion for high quality and leading performance
A short introduction to the new brochure and new lighting concepts!
Elevate Your Space. Enhance Your Design.
Why outdoor lighting?
Safe low voltage outdoor lighting is quickly becoming the norm and ease of installation, highly efficient LEDs, leading performance and stylish fixtures are some of the reasons to choose in-lite to attractively illuminate gardens and outdoor spaces.
Why in-lite outdoor lighting?
High quality leading performance. Stunning Results!
How to use Flipbook features in the new in-lite brochure
Flipbooks are designed to be easy to navigate and create an immersive experience for the viewer. Functionality in the simplest terms is to flip the pages by clicking on the forward and back arrows centred at each side of a page.
Functional layers exist beyond turning pages in a flipbook, and well designed flipbooks can offer an interactive experience through learning, guidance, and sharing.
View pages as a grid, make notes, print, share individual pages or share a link to the flipbook. You can easily share the flipbook to social networks and by email. If you wish, download the flipbook as a PDF. Explore topics with the Search function. Use the zoom function to zoom in on page text and images and zoom out. Go full screen if you desire.
# Tips for 2023
When we received our digital copy, we immediately picked up on good marketing messages and lifestyle is the key. 
As you would expect with any new digital material focused on outdoor lifestyle living, innovation brings to you new SMART Outdoor Lighting with new in-lite TONE fixtures, where style meets colour, in harmony with natural light.
New technology and user-friendliness feature in 2023 with more products focused on consumer lifestyles, smart control, and low-energy lighting solutions!
Talking of lighting solutions, we believe it has never been easier to illuminate gardens and outdoor spaces, and there's now even more helpful advice and guidance on creating a lighting plan.
Finally
Use the Book of in-lite 2023. Take inspiration, make notes of your favourite lighting ideas, and use the practical information available to create a lighting plan that fits your lifestyle. Remember, a little light goes a long way at night, practicality is key, and with the in-lite 12v lighting system, you can safely move, adjust, change and add to your lighting design as it suits you!
Take your time, don't rush it. We can work together and get it right!
We offer free guidance and advice on the best selection of in-lite outdoor lights to suit your garden lighting design. Sometimes a solution is required, and because we work closely with garden professionals, we have the design and installation experience to help you achieve the best results. Contact Us. We Can Help!
ps. We created an image gallery with stunning visuals, just for you!
---
---
---