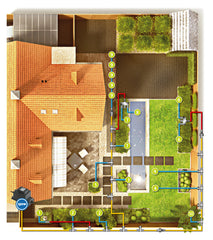 Outdoor Garden Lighting Design Tips from 12vgardenlights.com
James Parnham
We understand getting the right outdoor garden lighting design, choosing the best products and imagining the overall result can be daunting!
We start by asking ourselves all the obvious questions such as...
'What will I need?', 'How will it connect together?', 'What will it look like?', 'How will it work?' and most importantly...'How much will it cost to buy and run?'
All the typical questions people ask and all very serious ones as well!
It's not as hard as you may think to create your ideal garden lights solution with the 12v Plug & Play range at 12vgardenlights.com

The cost of running can be answered straight away! We only promote LED energy saving technology! So compared to most normal lighting the costs are about ten times less!
A good starting point for your garden lighting design is to look to identify the primary features and outdoor areas that are going to be illuminated. Trees, patios, pathways, driveways, gate entrances or dark and vulnerable areas where lighting for safety or security is needed.
Take time to consider the mood and atmosphere you want to create and how much light will be required to give that wonderful result you wanted. Decide what type of light fitting you would like and try to imagine the effects you can get with them.
Remember, a little light goes a long way at night.
Do you want to create a calm relaxing space where you can sit, relax, read and unwind with a vino while you enjoy your colourful springtime garden at night? If so, go for some low level spotlights to softly illuminate your garden haven in a soft warm white.
Post lights are ideal for setting out borders or adding perspective and depth to your garden. Consider using post lights around social areas such as patios, decking and the functional spaces you enjoy that quickly disappear at night.
Here in this outdoor living space layers of light from LIV LOW DARK and the taller LIV DARK lead the eye and draws attention to colourful grasses and shrubs highlighting the focal points along the patio space.
To produce more dramatic and creative results try using different types of light fittings in your design to add variety and transform your garden into a theatrical stage at night.
We have many matching design styles in our Garden Lights Range.
Up-lighting is a great way to easily add some 'wow factor' to your garden.
The LUNA 3w ground light produces a wide, focused light ideal for uplighting trees, hedges, walls and fences.
In this garden space the LUNA ground lights are positioned evenly and placed along the row of manicured trees. The angled beam of warm white light highlights the trees and creates contrast with subtle lighting to present the lush trees in the evening.
Wall lights 12v garden wall lights are a practical and functional way of adding light to those areas we need it most. Bring your house to life at night by placing some low voltage wall lights beside the front door or alongside your steps for when you arrive home. Use wall lights to bring some drama to your flower borders at night creating a wonderful play of colour and silhouettes.
Fences and walls can be used as theatrical backdrops to present your garden with dramatic effect. The HALO UP DOWN DARK 6.5w wall light creates atmospheric up-down lighting effects along the exterior wall of an outbuilding.
We have many matching design styles in our 12v Wall Lights Range.
The ACE UP DOWN 3.5w wall light showcases a wall and water feature and creates a visual treat by using shadow and light.
Lighting the wall and water area using more than one light fitting adds intensity to the feature. This is in contrast to lighting the rear fence where light fittings provide subtle illumination and is left in a degree of shadow. Naturally the eye is drawn to the stunning garden feature that takes the 'theatrical stage'.
The ideal light fitting will depend on what you like as a preference, the subject to be lit and the strength of light needed. We are sure you'll find a product fitting for each application from the 12v Garden Lights range.
For more demanding solutions we recommend to sketch a plan of your garden where you want the lights to go. Keep it simple at this stage as you are simply looking to create some initial thoughts and ideas.
Don't worry if you can't draw. Google maps have enabled easy access to satellite images of your property and garden. Maybe print it off and you can just ink in what you think you want and where it should go. Or send us your general ideas and problems and we'll help.
It isn't easy trying to imagine what the overall outcome will be but you won't be far off the mark if you keep to the basics. Images and descriptions can only help so much so let your imagination pick up on the ideas.
In larger gardens consider breaking down the lighting installation into phases. We can help with overlay designs if you want. Just contact us.
For example, from a functional perspective it'd be easy to choose a few floodlights over a patio and 'job done!'. We'd say 'Job nowhere near done!'
You can create so much more with atmosphere and vibrancy than a 'floodlight' just washing the area with stark light. Where's the beauty, emotion or delight in that?
Sure, LED floodlights are ideal for security lighting or patio areas with a strong light source and low energy consumption. However they are good for a whole lot more such as uplighting trees, feature walls or great architecture.
Most importantly, have fun designing your garden lighting plan!
With so many products available in the 12v Garden & Outdoor Lighting Range you'll find many ways to enjoy your outside space at night.
Do drop us a note if you feel we can help in way!
---
---
← Older Post Newer Post →
---