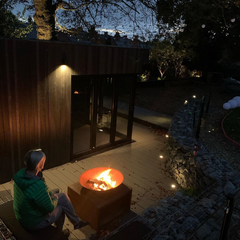 Transform Your Garden and Outdoor Spaces with Low Voltage 12v Outdoor & Garden Lighting!
James Parnham
We're here to help illuminate your garden and outdoor spaces with Low Voltage 12v Outdoor & Garden Lighting!
We're often asked for help with garden lighting ideas and creative lighting techniques. 12v can really make a difference to gardens and outdoor living spaces. We believe your garden transformation and our low voltage outdoor lighting services can go hand in hand, so we created this article to help you through the process.
As garden professionals working in design, landscapes and outdoor renovations, we understand your garden and outdoor space is an extension of your home. It's personal to you and those around you. With your lifestyle ambitions in mind, our knowledge, experience and passion for lighting design and creative lighting will give you confidence in knowing we'll help bring your vision of the perfect space to life.
Outdoor Lighting can Enhance Your Outdoor Living Lifestyle!
Whether your vision is alfresco living, minimalistic, modern contemporary, scandi, or traditional, Our lighting designs and solutions can be tailored to your outdoor living ambitions. We believe practical lighting designs and creative lighting techniques go hand in hand, so we work with you to create the design, cable and fixtures plan bespoke to your project.

Outdoor Lighting can Enhance Your Outdoor Living Lifestyle and can really make a difference to your garden and outdoor living space. Whether it's needed for safety, security or to create mood and atmosphere when the sun goes down on your lovely alfresco space, our modern range of safe low voltage 12v LED plug-and-play lighting can be easily integrated into your outdoor living space.
From specification and selection to installation, our lighting expertise extends beyond just selling high quality lighting. We're garden professionals and we'll help you get the best results for all your outdoor living elements.
 
Creative Lighting Ideas to Illuminate Beautifully at Night!

We are passionate about lighting and we believe the low voltage benefits are available to all who want to illuminate their garden beautifully at night. Our experience working with creative lighting techniques, garden design, landscaping and garden renovations, gives our customers a complete service and we help bring their visions to life!
Having an experienced lighting professional to guide you at each stage of your project is not common. We work with each of our customers to match lighting to their lifestyle requirements. Tailored lighting plans and cable solutions can be drawn up specifically to blend effortlessly into your outdoor living project. Choosing the right lighting fixtures can seem daunting at first and we help select the best-fit lighting fixtures to enhance your outdoor style with desired lighting effects.
Achieve the Best Results: Illuminate Your Outdoor Features and Elements.
 Here's a snippet from Garden Lighting Design Effects: 
"Here you will see the various methods of adding atmosphere and visual delight to your garden and it's features. With so many models and styles of garden lighting to choose from, it's important to understand the basic principles in lighting methods and their effects to ensure you gain the most from your garden lighting design."
From decking and patios, garden furniture, summer houses, gazebos and hot tubs, exterior raised flooring systems, carports and driveways to new build and home extensions, we can recommend the best-fit low-voltage lighting system and low-energy LED lighting fixtures to add another dimension to your garden and outdoor spaces.
As you can see from the images in this article, outdoor lighting really makes a difference and the results are truly stunning!
Low Voltage 12v LED Garden & Outdoor Lighting Fixtures:
Post Lights

Wall Lights

Spotlights

Deck and Surface Lights

Ground Recessed Lights
We specialise in low energy LED garden lights, outdoor lighting design and garden lighting design. We only promote and sell safe low voltage garden lights. Our 12v low voltage garden lights are all simple to install and easy to illuminate with Plug and Play technology.
Start with a Lighting Plan for Your Garden
A good starting point for your garden lighting design is to look to identify the primary features and outdoor areas that are going to be illuminated. Trees, patios, pathways, driveways, gate entrances or dark and vulnerable areas where lighting for safety or security is needed.
Take time to consider the mood and atmosphere you want to create and how much light will be required to give that wonderful result you wanted. Decide what type of light fitting you would like and try to imagine the effects you can get with them.
A simple hand drawn or sketch plan can be all that's needed as it puts your garden ideas and inspirations into perspective. It doesn't need to be an architectural design but consider the garden spaces you have and remember a little light goes a long way at night!
Garden Walk Around Videos
We've seen growing popularity in garden walk around videos where smartphone-savvy customers send us short video clips of selective garden spaces to add lighting. These short videos give great insights into their garden and lifestyle ambitions. Sometimes it's an early stage of garden development plans and sometimes it's towards the end of a new build or home extension and the focus is coming to the outdoor renovation project!
We're setup to receive video by email although we're social media friendly too! Follow us on our Instagram and our Facebook pages, it's really easy to  message us (DM us) your video directly!
For example, here's a short video clip below. Lucy sent us a walk around video during the initial lighting stage of the garden transformation. We are delighted to be part of an amazing restoration and renovation project and do check out the full story on Instagram: @Victoria_Road_Restoration.
12v Outdoor Lighting Project | Victoria Road Harborne | Garden Walk Around
Lighting Plans for Larger Gardens and Garden Designs
In larger gardens consider breaking down the lighting installation into phases. If you're having a garden design commissioned and you require low voltage lighting plans, at any stage we can help with lighting overlay designs and lighting selection.
Low Voltage 12v Garden & Outdoor Lighting Systems - The Benefits:
Totally safe cabling, connectors and fittings - no possibility of electric shock
Easy to install & uninstall.  All light fittings and cables use standard Plug & Play connectors
Flexible and adaptable as your garden matures or changes
Cables can be laid on the ground surface through borders, ran along fences or walls or discreetly hidden behind features
Cables can be buried in the open ground such as lawns or planting borders
Cables can be laid in a simple conduit or under patios and driveways if needed
Installation doesn't need a qualified electrician
Cable Lengths, Cable Distances and Cable Connections:
Flexible options are available to accommodate cable lengths and connections as required. Creating cable runs of different length and in multiple directions tailored to your garden design and layout (up to 90m is not uncommon!).
Our
12v garden & outdoor lighting ranges
include contemporary 'designer style' through to pure utility (but still stylish designs) that will fit perfectly into traditional or modern gardens and outdoor spaces. So there is something for every style and budget. Whether it's a low voltage lighting solution for your garden patio, decking or outdoor lighting for pathways, walls and drives there will be something to get subtle through to stunning effects in every situation.
Contact us to discuss your plans for your perfect 'Alfresco' Garden Lifestyle and Outdoor Living Spaces!
info@12vgardenlights.com
tel: 0121 416 0408
About Us
12vgardenlights.com is the trusted supplier for patio lights, decking lights and outdoor garden lights.
We specialise in low energy LED garden lights, outdoor lighting design and garden lighting design. We only promote and sell safe low voltage garden lights and our 12v garden lights are all easy to install with simple plug and play technology. We are proud to have a great choice of outdoor LED garden lights.
Feel free to contact us regarding any questions you may have.
---
---
← Older Post Newer Post →
---