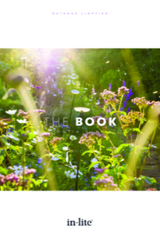 Looking for Outdoor Lighting Ideas and Inspiration?
James Parnham
'The Book of in-lite 2021' New Brochure Online!
It's here! In 'The book of in-lite 2021' you'll discover how outdoor lighting truly brings your outdoor space to life. The new in-lite brochure showcases stunning lighting concepts and shows you how to use lighting effects to make your garden and outdoor spaces truly magical.
This new online brochure Flipping-Book gives you interactive content features such as thumbnails view, add your own notes, search, print, download, link share pages and share the brochure link!
You will find innovative exterior lighting solutions with modern low power consuming LED lighting fixtures suitable for many outdoor spaces. This brochures shows you how high quality outdoor lighting can be used to illuminate a range of outdoor spaces.
in-lite FUSION. Low Voltage Outdoor Ground Lights. Image by in-lite.
Here at 12v Garden Lights we work with high quality, safe low voltage 12v lighting systems and fixtures. Working alongside trade professionals in design, installation and innovative solutions we're an official installer of the
in-lite Low Voltage Lighting System
 and retail partner for in-lite UK.
Together, we'll help you realise the benefits of low voltage lighting, modern lighting effects and lighting design possibilities. Driveways, paths and walkways, walls and steps, patio and outdoor living spaces can be beautifully illuminated in the dark.
in-lite SCOPE. Low Voltage Outdoor Spotlights. Image by in-lite.
We're truly confident you will find the new in-lite 2021 online brochure full of ideas and inspiration and we can help you discover how to 'Make your Outdoor Space Unique'. Feel free to share. Here's the link: 
https://online.flippingbook.com/view/97934486/
We're here to help illuminate your garden and outdoor spaces with Low Voltage 12v Outdoor & Garden Lighting. 
Feel free to Contact Us. We'd be delighted to hear from you!
---
---
← Older Post Newer Post →
---