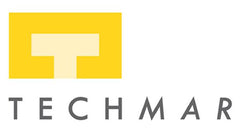 Will Techmar's Low Voltage Garden Lights Work With My Old 12v System?
James Parnham
Here you will see how simple it is to upgrade your existing outdoor and garden lighting system with the various connectors available in the Plug & Play range from Techmar.
Firstly, some important points need to be considered.
AC or DC?
The lighting fixtures in the Techmar Garden Lights range require AC (alternating current) to operate. 
The label below is from the 150w transformer and indicates the SEC: (Secondary or Output) is 12VAC and the Max Wattage achievable is 150w (150VA)
If your existing 12v transformer output is in fact AC the label should indicate SEC (output) as 12VAC (12V, Alternating Current)
What type of cable does my existing garden lights use?
There is usually an identification mark along the cable to establish what cable your system uses.
Techmar connectors are compatible with SPT-1 & SPT-3 type cables. These cables are popular among other garden lights brands such as Luxform.
Should you need to measure the gauge:
SPT-1 is 1/64 inch gauge

SPT-3 is 3/64 inch gauge
Looking to install Techmar's Plug & Play outdoor garden lights and wish to keep your existing 12v garden lights?
Choose to integrate the connector type below and allow your existing garden lights to be powered by the newly installed plug and play cables.
SPT-1 to SPT-3               SPT-1 to SPT-1
cable connector             cable connector
Have your existing garden lights failed you? Are looking to upgrade with Techmar's high quality range of garden and outdoor lighting?
You may simply be looking to increase the number of lights in your garden. In either case the Plug & Play type connectors below will ensure a good quality electrical contact is made with your existing SPT-3 or SPT-1 cables.
SPT-3 to SPT-3               SPT-3 to SPT-1
cable connector             cable connector
You are now ready to plug & play your choice of Techmar's high quality light fittings, cables and accessories to suit your garden design.
If we can be of any assistance with the selection of products or garden design please do not hesitate to contact us. We'd be delighted to help.
Thank you for reading our blog....hope this helps...from the team at
www.12vgardenlights.com
---
---
← Older Post Newer Post →
---