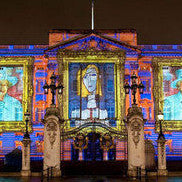 Why Does Low Voltage Garden Lighting Make A Difference?
James Parnham
Does Garden Lighting Really Make A Difference?  
We think so!
Let's paint a simple picture.  
Imagine you went to the theatre, pop concert or a stage show.  Now imagine what it'd be like if you didn't have lighting!
Trapeze artists, stand-up comedians, magicians - whatever the artist - they are always lit!
Stage Lighting - for the cast or props!  Look at the difference it makes.  It's vital to create an impact or draw the eye to a point.
Pop Concerts - the technology has just become so impressive that if you didn't have the effects that are created you'd be very disappointed!
And what about the lighting projected onto London's Buckingham Palace in 2012 as part of the UK's Queen's Jubilee Year!  Impressive?
Now your lovely building, architectural feature, borders, striking or pretty trees, statues, water features all drift into total darkness.   
It doesn't have to be like that!  You can create a vibrant, exciting and visual impact right outside your backdoor.  You'll be amazed at how pleased you'll be.  
We get feedback that is honest and consistent.  'The lights make such a difference' 
Just contact us if you need any help, ideas or design work carrying out.  
Send a simple sketch (see the one below) photo or a professional design ad we'll help bring your outdoor to life.
No hard sell, no pressure just great advice from a trusted UK supplier.
If you have any questions, need any help or just want to know more then call me on 0121 416 0408 or email me direct at
info@12vgardenlights.com
James
---
---
← Older Post Newer Post →
---