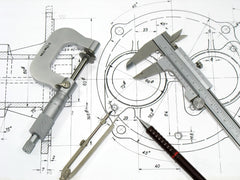 Bespoke Low Voltage Outdoor Light Fitting Service Launched
James Parnham
Read about our new Bespoke Low Voltage Outdoor Light Fitting Service launched 21 July 2016.
___________________________________________________________________________________________
At 12vgardenlights.com we genuinely offer some of the best low voltage garden lights on the market today.
With products from leading manufacturers such as Techmar (the award winning Dutch company), in-lite and Konstsmide you can choose from market leading designs, style and lighting effects.
Whether you need decking lights, patio lights, wall lights or general garden lights for your borders and trees, we feel the extensive ranges we offer should provide something for most situations.
Bespoke Low Voltage Outdoor Lights
We also recognise that a small number of clients want something special.

Something that no-one else has. Something unique!

Well...we can make it for you!
It might be that an architect's vision or your property needs something unique or special and what you are looking for just doesn't exist.
Or you live in an older property or listed building and need to match existing fitments that are tired, broken or in a general state of disrepair.
In both cases the products needed aren't on general sale.
Listed buildings, National Trust and English Heritage
For properties such as listed buildings, National Trust or English Heritage properties the ability to replicate an existing fitting is key.  Authenticity in both the look and feel is vital.
___________________________________________________________________________________________
The Bespoke Outdoor Light Fitting Option
So we can now offer a bespoke light-fitting construction and low energy conversion service.  
You may have a specific outdoor or garden light fitting or feature in mind or may want to match or replace something that has been broken or failed.  
As well as creating bespoke fittings we can also consider converting existing older 230v high energy fitments to low energy LED fitments.  Year-on-year the savings will be enormous and we can help calculate the business case for investment that will be offset by the energy saving and electricity bill reductions.
This is especially important for older buildings where energy saving hasn't been an option due to the fixed nature and difficulties engaging with or retro-fitting low energy LED's.
Our Service Expertise
Our engineering skills that will be used have been creating, amongst many other things, specialist items for vintage Bentley cars for many years.
Ranging from small trim items through to replica accessories, engine parts and major running gear, the craftsmanship has to be the best in the UK to pass the scrutiny of Bentley owners!  
Every item is uniquely constructed to the highest engineering specifications using the best materials available.
It is this skill and expertise and extremely high quality that we bring to you.
Whether your outdoor lighting fitment is required in stainless steel, chrome, brass, copper, aluminium or any other metal then will make it for you.  Some of the quality engineering skills are fading fast such as metal spinning, but we can tap into all the skill sets that are needed.
Although many fitments will be hand built using time-served techniques of construction, they will have our own guarantee.
Our approach is not a general manufacturing production process as each situation is unique. 
What Do We Need?
We will need to discuss every situation and to create your bespoke item we need some basic information and some very detailed information.  
This may be gathered from an existing fitting that we can use as a pattern or from an architects or engineers drawing.  
Dimensions, materials, lighting objectives will all need to be carefully thought through before any work begins.
So feel free to call us at any time or drop us an email.
We'll see if we can help create your unique garden light! 
---
---
← Older Post Newer Post →
---