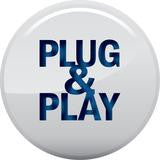 What is 'Plug and Play' For Low Voltage Garden Lighting?
James Parnham
We often get asked 
"What is meant by 'Plug and Play' For Low Voltage Garden Lighting?"
So here's the simple explanation!
Techmar's low voltage 12v garden and outdoor lighting system is labelled as 'Plug & Play'.  The light fittings and cables are used for installing patio lights, decking lights, wall lights and post lights.  
In simple terms, if you need garden lighting or general outdoor lighting then the simplicity of a low voltage garden lighting system with 'Plug & Play' completely outweighs the costs and problems that occur with 230V mains wiring.
(There are a list of benefits for 12v garden lighting that can be seen at https://12vgardenlights.com/pages/low-voltage-garden-lights-the-benefits)
Just plug each fitment together, screw down and switch on (play)
The product range offers a large selection of high quality lighting products that can be easily and safely installed by everybody and without an electrician.
It's simple to install and easy to illuminate.
Each lamp is supplied with 2-meter or 3-meter SPT-1 cable with a weatherproof screw connector.  The cables are attached to the main low voltage cable coming from the transformer.
Remote controls, Passive Infrared Detectors (PIR's), timers, splitters and other connections all come with the same 'Plug & Play' fitments. Simply push them together and screw down the attached cap!
The complete system, from transformer to the fitting itself, is manufactured with screw connectors so no tools will be necessary during installation.
The safety of low voltage and the simplicity of this lighting system makes it possible for anyone to install this lighting themselves.
As the connectors are screwed to each other a simple rubber 'O' ring seals the connection points from water ingress.  
(The assembly of the lamps may require a screwdriver and if you want any spotlights to be fitted to walls, fences or other structures you'll need to be able to fit the spotlight wall connectors.)
Cables can be buried underground, ran along walls or fences or laid discreetly on surfaces such as garden borders.
Depending on the load (watts needed) the maximum possible cable length is around 80 meters.
Electrical socket - watertight/waterproof
In most gardens one central 230v connection is sufficient and you simply plug in the 12v transformer. The power for the lights comes from a 12v transformer and this does need a 230v electrical socket to be plugged into.  
A spare socket inside a house, shed or other watertight environment will be more than adequate.
If your plug can't be installed in a dry indoor area then that's no problem.  It can be plugged into an outdoor electrical weatherproof/watertight socket similar to the one shown below.

 

If you need to install a watertight socket then we recommend a qualified electrician is employed as they will complete all works to modern safety standards and also be able to certify any new installations. You then simply plug your transformer in once it's fitted!
Types of Cables, easy as SPT-1,2,3
SPT (Service Parallel Thermoplastic) cables are found in many domestic applications like your radio, television or table lamps for example. You may be able to easily integrate Techmar's Plug & Play within your existing 12v garden lights system by simply selecting a suitable connector.
Techmar's Plug & Play technology provides a good clean electrical contact and with it's sealed, water tight connection gives durability that will last.  
Other 12v garden lighting systems, such as Luxform, electrical contacts are made by using a clamp style connector, where the cable is 'spiked' to create an electrical contact. The spike connector then becomes a point of failure and the system may not work as a result in the long term.
Transformer failed or thinking of upgrading?
If your transformer has failed  then you may be looking for a high quality replacement that will last; or you may be looking to upgrade your 12v garden lights design with Techmar's award winning, high quality lighting.
In either case you can choose to install the SPT-3 or SPT-1 connectors shown here to upgrade your existing main cable to be compatible with the various Plug & Play cable choices.
If you are looking to extend your existing garden lights system you can incorporate one of the connectors below to provide a secure connection. These can be used to combine the Techmar garden lights to other garden lighting systems that use SPT-1 or SPT-3 cables.
Simply integrate the chosen connector to your 12v garden lights system and you're ready to plug & play!
Note you can vastly increase the design opportunities with your 12v garden lights by combining Techmar's three way cable divider.
For information, there are three main types of SPT cable:

SPT-1 (max 120w)
SPT-2 

(max 150w)

SPT-3 

(max 150w)

See the table at the bottom of the page for detailed information:

| | | | | | | |
| --- | --- | --- | --- | --- | --- | --- |
| Type | Description | AWG Size Range | Number of Conductors | Insulation Material | Voltage Max | Applications |
| SPT-1 | Service Parallel Thermoplastic - 1/64" Insulation | 18 | 2 or 3 | PVC | 300 | Cables for lamps small fans, radios, televisions, etc. |
| SPT-2 | Service Parallel Thermoplastic - 2/64" Insulation | 18-16 | 2 or 3 | PVC | 300 | Cables for lamps small fans, radios, televisions, etc. |
| SPT-3 | Service Parallel Thermoplastic - 3/64" Insulation | 18-10 | 2 or 3 | PVC | 300 | Cables for lamps small fans, radios, televisions, etc. |

 

If you have any questions please do contact me at 12vgardenlights.com and I'll be pleased to answer any detailed technical or design issues.

Hope all this helped and have fun!

James 0121 416 0408
---
---
← Older Post Newer Post →
---