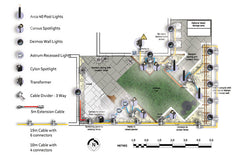 Garden and Outdoor Lighting & Garden Design Go Hand-in-Hand
James Parnham
More people are asking about outdoor and garden lighting and most are wanting to understand how they can get the best results from their investment.
We strongly believe that good outdoor lighting design can help the visual impact whilst providing function as well.
The ability to simply light the garden in a functional way is OK but only gives a single dimension. Sometimes that's all that is needed.  
Adding a high energy-consuming 500 watt security light operated by a PIR or internal switch is still a requirement for some situations.  However, the lighting effect is similar to that of a industrial site or car park!  Bright, bland albeit functional!  Oh, and expensive to run every time it's switched on!  
Here at 12vgardenlights.com we try and ensure that outdoor lighting, whether it's for pleasure, safety, security (or all three) is always considered from an aesthetic perspective.  All our designs incorporate low energy light fittings that are totally safe as they use low voltage electricity.
The lighting should be pleasing on the eye, highlight plants, trees or shrubs.  Splash light on walls, arbours or gazebos. Open up a patio or pathway with subtle lighting.
The lighting should give a welcoming effect for visitors with lights at the entrance or along the drive or pathway. Helping guide as well as bathe the area to make it visually pleasing. It can still provide the core elements needed for safety or security if needed using PIR technology.
As an example, a client approached us and wanted lighting for a steep run of dark steps leading from the front a beautiful Victorian property.  
The main objective for the lighting was for safety purposes.  To light up what were considered dangerous, dark and steep steps.
Having listened to the client we designed the lighting such that it switched on when leaving the front door to go down the steps and similarly lit up when arriving back at the property at the bottom of the steps.
The lighting was also designed to be progressive so as the client moved up and down the steps the lighting came on in stages.
At the same time we made sure the surrounding shrubs were gently uplit and also the lighting cast a gentle glow to the front of the property to help with unlocking the door. So starting with a single-purpose safety brief we also ensured great aesthetics were achieved by using our design knowledge and good design principles.
Your Requirements?
It may be you simply want the flower beds to be lit up to 'show off' the summer blooms on a later summer evening to extend the home into the garden.  
Or you may want something far more extensive or sophisticated.
We're confident we'll be able to create a design that satisfies both function and aesthetics.
If you have a formal garden design that doesn't incorporate lighting then send the plan to us and we'll use our expertise to bring your outdoor alive in late summer evenings and cold winter months!
For smaller outdoor projects we provide a free design service (see https://12vgardenlights.com/pages/garden-lighting-design-services ).
If you have a larger project just give us a call (UK +44 (0)121 416 0408) or email us at info@12vgardenlights.com.  We can discuss what you're trying to achieve and we're confident we'll take the ideas you have to something you'll like and enjoy for a long time!  
---
---
← Older Post Newer Post →
---