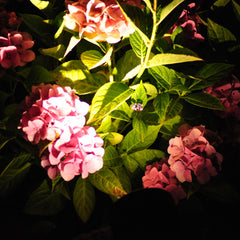 Garden Spotlights - The Consumer's Choice
James Parnham
As the nights draw closer now is the perfect time to plan your garden lighting.
We often get asked "Which light fittings should I choose for my garden?"
Based on the consumer's choice that's easy. Spotlights!
Spotlights are the ideal light fitting for a flexible approach that can achieve great results in your garden.
Spotlights can be rotated, angled and turned to the ideal position to maximise the potential with your garden lighting.
With a ground spike and generous lead cable included ensures that the light fittings can be easily positioned as your garden matures or evolves.
With over 200 Lights to choose from we are sure you are sure to find a fitting to suit your garden design.

We are here to help with your selection and any advice you might require.
Below are some of our best selling 12v spotlights over the last year.
Alder Spotlight
The Alder is a small and discreet spotlight that will merge into any garden landscape or border.
It's small size is perfect for lighting up planters around your garden.
At the lowest price in our Techmar range of spotlights it's no wonder it's our best selling spotlight.
Another small and attractive spotlight that's a best seller.
Aluminium finished in gun metal grey, this spotlight is very stylish, detailed and looks great placed in stone borders.
The Corvus is one of the most versatile spotlights in the Garden Lights range.
With a 5w LED light source the Corvus is great for highlighting larger features in your garden, illuminating medium sized trees and to really bring your garden to life at night.
It's matte black finish makes this spotlight look great in the day and at night.
Please do feel free to give us a call and discuss your bright ideas.
info:@12vgardenlights.com
---
---
← Older Post Newer Post →
---