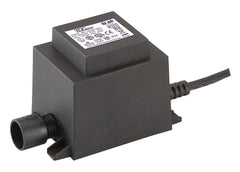 RING Low Voltage Garden Lighting Systems
James Parnham
UPDATED 21/4/17
We've had a number of queries along the lines of 'Are RING now known as Techmar?'  
The short answer is 'No'.  We are aware that some 'RING' garden lighting was sold through the DIY chain B&Q.
Techmar are a specialist Dutch lighting company based in The Netherlands.  They have been working in the outdoor garden lighting arena for many years and their specialism is safe, low voltage, low energy outdoor lighting using proprietary Plug & Play fittings.  We have their full collection
here
.   For further information on Techmar s
ee our full page at
'Who are Techmar'
Connectivity issues for failing RING systems may be answered below.
OLDER BLOG issued 01/08/16
We are seeing increasing numbers of enquiries about RING low voltage garden lights that have been used in the past for garden lighting.
It seems as if a lot of people have their systems in place for patio lights, decking lights and general garden lights.  However, the light fittings and bulbs are failing or the cables have rotted!
Whilst we can't be definitive about every installation we feel pretty comfortable that our garden lighting ranges may be able to be retrofitted to the older RING system and a quick example is given....
It can be simple to upgrade your existing outdoor and garden lighting system with the various connectors available in the Plug & Play range from Techmar.
Firstly, some important points need to be considered.
AC or DC?
The lighting fixtures in the Techmar Garden Lights range operate on AC (alternating current) electricity 
The label shown here is from the Garden Lights 150w transformer, manufactured by TDC power, and indicates the SEC: (Secondary or Output) is 12VAC and the Max Wattage achievable is 150w (150VA)
If your existing 12v transformer output is in fact AC the label should indicate SEC (output) as 12VAC (12V, Alternating Current)
Compatibility With Your Existing Cables.
Each brand of lighting may have slight differences in the connector style into the transformer.
Whilst the cable type may be the same, compatibility issues are experienced with the various connector types used with low voltage outdoor lighting systems.
The way to resolve the compatibility issue between these different connectors is simply to remove them!
The female connector, from the cable leading from the 12v transformer, and the male connector that may be present with your existing cable system.
Cut back each cable carefully to expose the two core wires without causing damage to the protective sheath. These core wires should then be rejoined using a suitable connector for outdoor use. (IP44 rated or above).
Once a good connection has been formed you are now ready to power up your garden lights.
How Do I Tell What Cables I Have Already Installed?
Generally, the type of cable you currently have will be identified by a repeated stamp along the outside of the cable.  Typically every half metre or so there will be an identifier unless the supplier used unlabeled cables.
Cables are typically referred to as SPT (Service Parallel Thermoplastic - Two cables running along side each other with a rubber protective sheath) or as AWG (American Wire Gauge)
The cables used in the Techmar range are:
SPT-1 or 18/2 AWG

SPT-3 or 16/2 AWG
The plug and play screw connectors shown here are perfect to extend your existing garden lighting system with the Techmar Garden Lights range in a quick and easy way with no messing about.
If you have an old RING system, or any other low voltage garden lights system, and want to upgrade or replace then feel free to contact me and I'll do my best to help.
info:@12vgardenlights.com
---
---
← Older Post Newer Post →
---